Our Learning Journey
Spring 1: Naughty Bus
We have received a late Christmas present... What can it be??
Autumn 2: We're Going on a Bear Hunt
We arrived in our classroom to discover a strange 'cave' and clues like sticks, mud and leaves were scattered around the rooms. Strange growling noises were heard and the boys and girls predicted what they thought was hiding inside the cave. Predictions included: monster, bear, mouse, skeleton... and many more ideas. During our welly walk we followed stick arrow clues which led us to find a baby bear and a book hiding in a tree. We read the title of the book which was 'We're Going on a Bear Hunt.'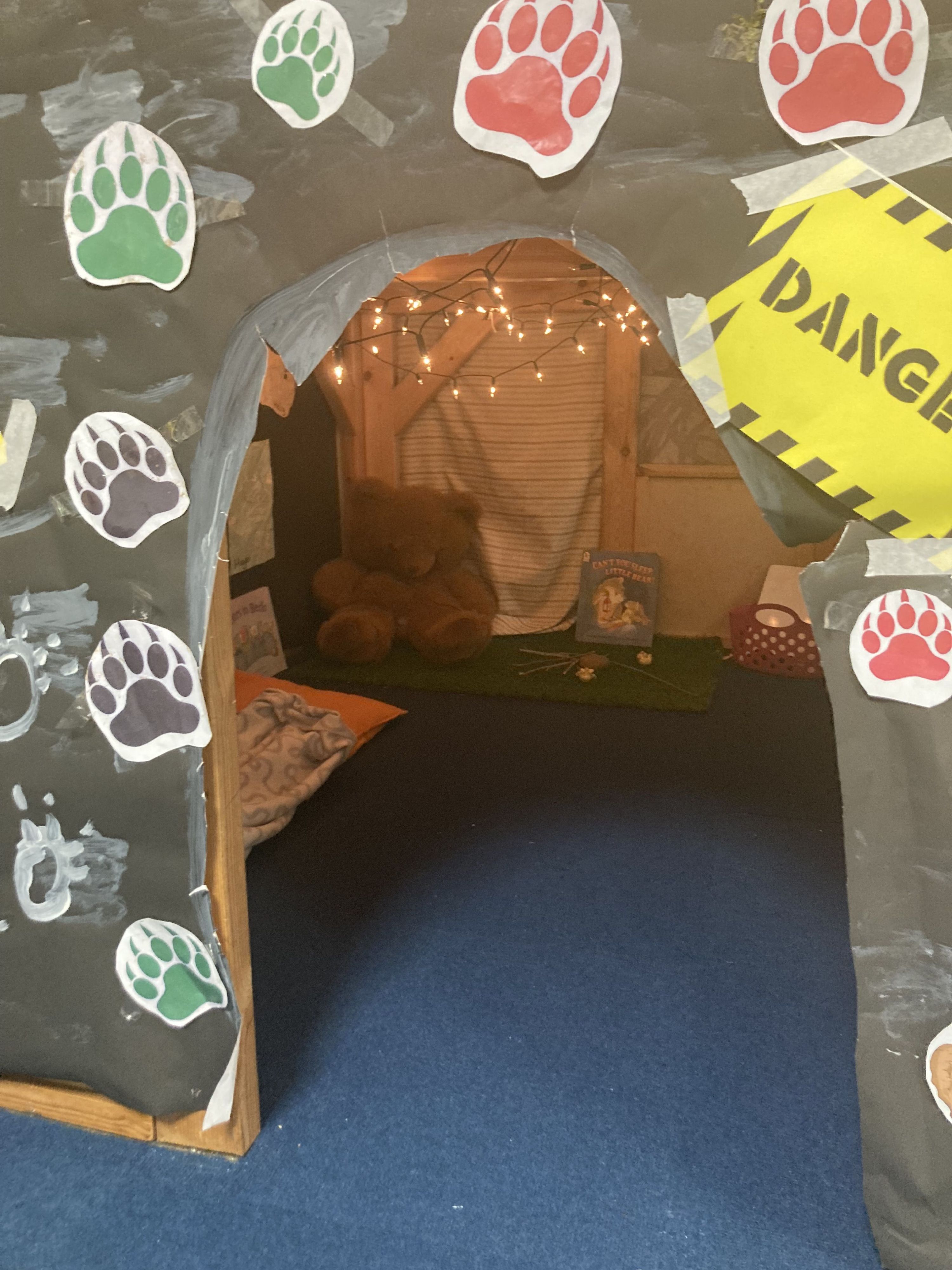 We returned to class to find that the cave had been ripped open, and we knew the bear who had been hiding there had escaped!!! This started all of our super learning about bears. We learnt lots of interesting bear facts, labelled bears, and used our T4W actions to retell the story as a whole class. We finally sequenced the story and used our developing phonic skills to write small words about key events.
We are still searching for bears so keep looking over the Christmas holiday boys and girls.
Autumn 1: We have started school!
All the teachers would like to thank the new boys and girls of Reception 2022 for settling into Reception life so well. They have embraced new routines, friendships and classrooms with enthusiasm and a determination to achieve.
We have already started to recognise our names on our coat pegs, box files and reading folders so that we ensure we remember where to find our belongings.
The children have devised their own class rules to keep our friends happy and safe. We are trying very hard to follow them because we don't want to go down the zone board!
Reading books have gone home, and we are trying hard to get those 5 signatures a week (every Monday) so that we receive a stamp in our reading diary. Grown-ups don't forget to look carefully at the RED reading challenge letter and help us to keep our Vaynor reading promise.
Our fingers and thumbs have been working extremely hard, and we are trying to strengthen those muscles to help develop our pencil grip. We have enjoyed dough disco, threading, pencil control sheets and name writing activities. We have listened to Croc the Crocodile who is helping to teach us how to hold our pencil correctly and giving us help along the way if we need it.
In Maths we are learning to develop subitising skills (saying how many objects are in a group without counting them). We are also developing our one to one correspondence skills, recognising numerals, ordering numbers, creating a repeating pattern and singing number songs and rhymes.
Finally, we ask Walt the puppet what we are learning about each day. He is a little cheeky at times, but we all like getting to know him.
Here is a picture of Walt: