Our Learning
Summer 1 Glorious Growth
Spring 2 Stomp Dinosaur Stomp!
We came back to school after the holiday and found a very 'mysterious' egg. We didn't know what it was so started to investigate all the animals which come out of an egg. We also know that these animals are called oviparous. We didn't quite know what to do with our new egg so decided to write a letter to a local Museum. We received an email back and were so excited because the palaeontologist told us that this specific egg needed to be put into water. We did exactly as we were told and very soon the egg hatched, and we were looking after a new baby dinosaur. Our journey started, and we began to learn many facts about dinosaurs. We have also learnt lots of dinosaur names and what the different dinosaurs eat. There are many excellent action words in this book, so we practised being a dinosaur and using these actions in P.E and outside.
Our text for this half-term was: Stomp, Dinosaur Stomp by Margaret Mayo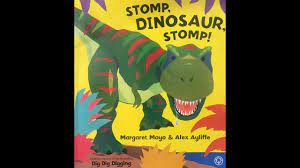 But this is not the only exciting egg! We also took delivery of 10 real eggs from 'Living eggs'. We were told to keep them nice and warm in a special box called an incubator. We also had a live webcam which enabled us to watch them even at home, so we watched the eggs hatching and look what we found the next day...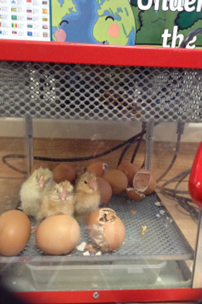 Spring 1: Naughty Bus
We have received a late Christmas present... What can it be??
We opened the present very carefully and tried to guess what we thought was inside. When we had unwrapped the present we found a small red toy bus and a book with the same red bus on the front cover. This is when strange things kept happening inside our classrooms. The toy bus kept moving around the classroom and was never where we had left it. Tracks appeared all over the floor and things were starting to look very messy. Poor Mr Rob (our school caretaker) was walking his dog before work when a red bus drove straight passed him, splashing muddy water all over him. His dog was so scared that she ran off, and it took Mr Rob ages to find her. When we started to read the story book we then realised that it was a very naughty bus indeed...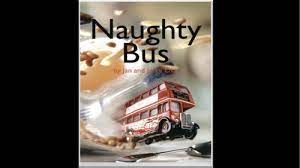 Naughty Bus By Jan & Jerry Oke
The little red bus didn't just stop in our classrooms but often enjoyed making a mess around the school too and liked to give us clues to piece together. Paper was left all over the library floor, rubbish was left in the kitchen, and you should have seen the tracks all over the staff room. The teachers were very cross with that little red bus. We did enjoy writing about all the things the bus did and trying to encourage it to behave. We wrote lots of sentences and messages and even devised some new Naughty Bus rules. We also learnt a lot of information about London and realised that this is where Naughty bus came from. We started to understand what It's like to live in such a busy city, we named landmarks of London and realised that Naughty Bus was a double Decker bus. We have enjoyed making models, painting pictures of Naughty bus and enjoying our bus station role play area.
Autumn 2: We're Going on a Bear Hunt
We arrived in our classroom to discover a strange 'cave' and clues like sticks, mud and leaves were scattered around the rooms. Strange growling noises were heard and the boys and girls predicted what they thought was hiding inside the cave. Predictions included: monster, bear, mouse, skeleton... and many more ideas. During our welly walk we followed stick arrow clues which led us to find a baby bear and a book hiding in a tree. We read the title of the book which was 'We're Going on a Bear Hunt.'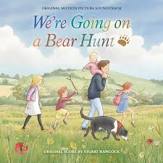 We're Going on a Bear Hunt by Michael Rosen
We returned to class to find that the cave had been ripped open, and we knew the bear who had been hiding there had escaped!!!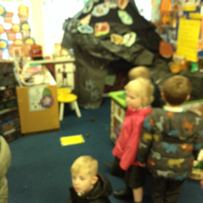 This started all of our super learning about bears. We learnt lots of interesting bear facts, labelled bears, and used our T4W actions to retell the story as a whole class. We finally sequenced the story and used our developing phonic skills to write small words about key events.
We are still searching for bears so keep looking over the Christmas holiday boys and girls.
Autumn 1: We have started school!
All the teachers would like to thank the new boys and girls of Reception 2022 for settling into Reception life so well. They have embraced new routines, friendships and classrooms with enthusiasm and a determination to achieve.
We have already started to recognise our names on our coat pegs, box files and reading folders so that we ensure we remember where to find our belongings.
The children have devised their own class rules to keep our friends happy and safe. We are trying very hard to follow them because we don't want to go down the zone board!
Reading books have gone home, and we are trying hard to get those 5 signatures a week (every Monday) so that we receive a stamp in our reading diary. Grown-ups don't forget to look carefully at the RED reading challenge letter and help us to keep our Vaynor reading promise.
Our fingers and thumbs have been working extremely hard, and we are trying to strengthen those muscles to help develop our pencil grip. We have enjoyed dough disco, threading, pencil control sheets and name writing activities. We have listened to Croc the Crocodile who is helping to teach us how to hold our pencil correctly and giving us help along the way if we need it.
In Maths we are learning to develop subitising skills (saying how many objects are in a group without counting them). We are also developing our one to one correspondence skills, recognising numerals, ordering numbers, creating a repeating pattern and singing number songs and rhymes.
Finally, we ask Walt the puppet what we are learning about each day. He is a little cheeky at times, but we all like getting to know him.
Here is a picture of Walt: