Our Learning
Autumn Term
Our first topic in Year 3 is called "Romans on the Rampage". We will investigate the Roman invasion of Britain. Whenever possible, our learning will be interlinked within the topic.
We will begin our journey by immersing the children in the ancient city of Pompeii through our class text Escape from Pompeii by Christina Balit.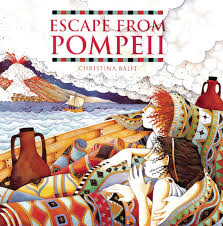 English:
The children start their learning through narrative, exploring how an author begins stories using setting descriptions. The children will write their own story setting about the eruption of Mount Vesuvius. English skills will be taught alongside and then embedded into the children's creative writing. Following on from our fictional learning journey, the children will write instructions on how to be an almighty Roman soldier.
Maths:
Our Maths focus this term is 'Number'. This will include: place value, ordering and sequencing, negative numbers and rounding. Additionally, the children will be taught to apply their skills using mental and written methods for addition and subtraction. Throughout each sequence of learning, the children will be questioning, reasoning, evaluating and solving problems in as many real life contexts as possible.
Science:
In Science we are focusing on forces and magnetism. Using our investigative skills we will be exploring different types of forces. The children will be given many opportunities to plan and carryout practical investigations. May the force be with Year 3.
Art & Design:
One of the gifts of the Romans was the intricate mosaics they created. The children take inspiration from these historic pieces to plan and produce a mosaic which represent them. This will culminate with a visit from a local artist who the children will work alongside to create a magnificent mosaic for Vaynor.
History / Geography:
With our topic being history based, we will obviously be covering an awful lot of History! We will chronologically explore the Romans and the legacy they left behind. The children will discover how and why the Roman Empire expanded so successfully and reasons why they invaded and conquered Britain. In geography the children will learn about Italy and its human and physical features. The children will use atlases to locate Italy on a European and world map.
It's going to be a very exciting and busy term! Keep an eye out for pictures throughout the term, of all the fabulous work created by Year 3.