Deputy Headteacher
Hello! I'm Helen Colcombe and I am the Deputy Headteacher at The Vaynor.
For the Academic Year 2022- 2023 I will be the Acting Headteacher at The Vaynor.
I have been teaching at The Vaynor for 10 years across all Key Stages and have been Deputy Head for 2 years. I am also Inclusion Manager and therefore work closely with both the children and their families. For more information about Inclusion and Special Needs within school, please look on the 'Learning' tab and scroll to 'Inclusion'.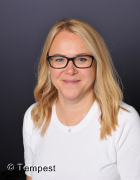 Helen Colcombe
Deputy Headteacher
Another of my roles is Educational Visits Co-ordinator, as I have a passion for learning outside of the classroom and travel. Also in my spare time, I enjoy reading, going to the cinema and relaxing and socialising with friends.