Please check here for information on staggered times, P.E days, spellings, leapfrog and RED reading
As the children return we will be focusing on settling them back into school. The first few days, as in September will be based around 3 key elements: 1. Their wellbeing 2. Re-engaging with school life, friends and routines 3. A balance of fun learning activities based around their topics alongside tightly focused assessment activities This will enable our children to readjust and be ready for learning, whilst allowing us to identify any gaps in their learning. Their curriculum will then be designed to address these and drive learning forward.
Please see a reminder of the allocated times below:

Full PE lessons will begin the week beginning Monday 15th March. Please see the timetable below for the days that your child will need to wear their PE kit.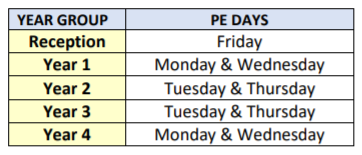 READING BOOKS
Can all reading books please be returned to school on Thursday 11th March. During the week beginning 8th March the teacher will listen to your child read and reassess them, to determine which colour band they are currently operating within. Therefore, your child will bring home their new reading book the week beginning 15th March. The need to quarantine books that are being sent home for 72 hours before being able to reallocate them still remains. Reading books will be changed once during each week. Children will choose their book from a selection housed in their classroom. Home reading books will be sent home on a Monday and must be returned to school on a Thursday, ready for them to be reissued again on Monday. We will be sending you further information regarding an online reading library of colour banded books to further supplement your child's reading at home and how these can be used with our RED Reading Challenge the week beginning 22nd March.
LEAPFROG
Leapfrog will begin again for Years 2- 4 the week beginning 15th March, with the first test on Thursday 18th March.
SPELLINGS
Spellings will begin again for all year groups the week beginning 22nd March.